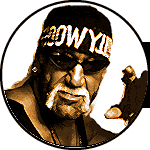 Hollywood Hogan
Former NWO World Champion
Finisher: Atomic Leg Drop



In 1996, 6-time World Champ Hulk Hogan almost decided to quit the business that had betrayed him. Tired of fans booing and cajoling him for being a "true" good guy, Hogan took some time off in 1996 to make a film and reconsider his career. Realizing that playing to the fans had only brought him pain, he decided to show WCW the price for mistreating a Hollywood star and an icon of the sport.
At that year's Bash at the Beach Pay-Per-View, Hollywood Hogan made his triumphant return to the ring, forsaking his former WCW comrades to stand side by side with the renegade Outsiders. By helping to form the NWO, Hogan did more than solidify wrestling's greatest organization, ever. He also brought to a close the sport's most popular, positive and profitable phenomena, Hulkamania.

Back To Raven's Page